Everyone knows that all business firms have to work with suppliers and vendors. It is vital to study and examine the vendors to avoid harm which can occur to your firm unintentionally. In maximum cases, vendors establish a connection with the business directly by getting access to the organisation's network. Sensitive data is stored, communicated and handled on both supplier and corporate networks.
However, this practice possesses a threat and increases the chance of cyberattacks. The criminals can get into the system through poor vendor networks and gain access to different information. Vendors may not have a strong security system to protect the business information which they obtain from various partners. This is why businesses need to come up with powerful risk management policies. Vendor risk management in a pivotal step towards the prosperity and safety of any business.
What is vendor risk management?
VRM or vendor risk management can be defined as the comprehensive plan for the elimination and identification of business reservations and lawful liabilities about appointing suppliers and vendors for IT services and products.
Powerful risk tactics are required to avoid the risks which are involved with the vendors. A strong vendor risk management strategy includes an array of aspects which consists of the following:
A contract that contains the details of the business relationship between a company and a vendor
Consistent observation of the performance of the vendors to ensure that all the requirements are fulfilled
Proper guidelines about access to specific information as part of an agreement made with a vendor
Conditions to make sure every vendor meets compliance guidelines for your business and a proposal to maintain the guidelines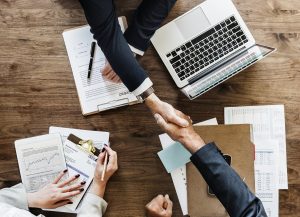 How vendor risks are managed with the vendor-business relationship?
Companies and businesses tackle vendor risk by employing vendors in a healthy relationship. Several problematic issues can be avoided when relationships are normal between a company and a vendor. One important thing that should be kept in mind is that a supplier does not only provide goods and services to your company to make your business run smoothly. They also play a crucial role in bestowing useful advice and information.
Read below the guidelines that will help companies in developing good relationships with the vendors:
Contact your suppliers daily.
Build a fine relationship with representatives of existing suppliers.
Paying to your vendors should not be delayed.
It is suggested to inform your supplier before the payment's due date if you delay in settling their account.
Be firm with the representatives of vendor sales as they may take a lot of time.
You should avoid rush orders in every situation because this can be a reason for massive stress in your business. Such decisions can strain your and vendor's relationship.
It is essential to observe the financial position of the vendors closely. You can talk about this with your colleagues and industry competitors. This will give you a clear idea of what is going on.
Whenever you come across any problem in a relationship, take a look at the issue properly to avoid speculations.
Whenever you receive damaged goods, inform the vendors immediately. Keep supporting documents present if required.
Review and renegotiate the trading terms with the vendors from time to time.
What are the best practices for strong vendor risk management?
Organisations should concentrate on reinforcing the vendor risk management. They should also meet the demands of the regulatory environment. Selecting a vendor successfully is the prime factor in controlling the risk. Correct planning is important before finalising the contract with the vendor. A business should understand what sort of relationship it is sharing with the vendor and if necessary, tweak it to maintain a strong business environment for upcoming years.
Besides, vendor risk assessment is a good method to correctly assess high and low-risk suppliers with the assistance of survey and self-assessment techniques. Vendor performance monitoring is also essential. When done daily, it enables you to be aware of a vendor's ability to comply with the rules and regulations.
Therefore, businesses can develop a good relationship with suppliers by taking accurate measures and following proper techniques. In this way, risks related to vendors can be handled in the desired way. So both parties can revel in a healthy and better business environment.